Back to: How to Do Keyword Research for SEO Using Free Tools – A beginner's guide
I consider Google Search Results Page a gold mine for any SEO expert, blogger or digital marketer. The search results page has so much data that we would never require a paid tool if we understand how to use it.
Google's search page has mainly five important sections as on Dec. 19, 2020. These are
Search Box (with autocomplete feature).
People Also Ask
Searches related to [keyword]
Q&A on Google
Please Also Search For
A blogger must learn to understand and use the data from these sections for proper keyword research.
Google Searchbox
The search box of Google Search Results Page has autocomplete feature which can be used for finding long tail and easy to rank keywords. In the following video, we have explained the basic way of using autocomplete to get a long tail keyword.
Note that, we need to insert suffixes and prefixes and even words in the middle until we find the longest possible tail keyword. e.g. we can never rank for "Keyword Research". However we may be able to rank for "best free keyword research tool for youtube" because it is a long tail keyword with a specific intent.
Keep practising with Google Search and try putting prefixes like best, worst, top, how to, why, when etc. You will get plenty of keyword ideas.
"People Also Ask" Section
The "People Also Ask" or "PAA" section is also a vital part of Keyword Research. This section was introduced by Google a few years ago.
In this section we get all the queries related to the topic for which we are doing keyword research.
This section is an ocean of keywords. Simply click the icon (⌄) and it will add more keywords to the section. These keywords are nothing but ideas and queries related to our topic. e.g. we searched "keyword research tools free" in Google and we got these keyword ideas.
We can make the list of these keywords and either create different articles on them.
We can create a complete course for for each idea.
We can make these keywords as forum topics in our forum site and provide detailed, easy and relevant answers.
We can also use these keywords as the subheadings of our article.
We can also create an FAQ section using RankMath's FAQ block feature. This way, our post can rank as rich snippet in the results for some keywords.
Make at least 10-30 searches on Google and try exploring the "People Also Ask Section" and use them in all your upcoming articles and you can even add them in previously published articles for more value.
Searches related to [keyword]
This is the oldest and one of the most important section for keyword research. As we all know, this section contains keywords (mostly long-tail) relating to our keyword.
These long tail keywords provide us an insight of the queries which people search on Google, in addition to our keyword. These keywords are comparatively easier to rank and also show the user intent.
Do a keyword research and make a list of all the related keywords (available in the end of search page). Organise these keywords so as to make an outline of your article.
Q&A on Google
The Q&A section of Google Search Results Page is also significant for Keyword Research. This section can be used in three ways:
As titles of our post/subheadings/anchor links/lessons/forum topics
As an opportunity to provide valuable information (and a mention of your resource)
To ask questions and answer them from some other gmail account. This way, you will get an opportunity to rank your information/tools/skills for difficult-to-rank keywords.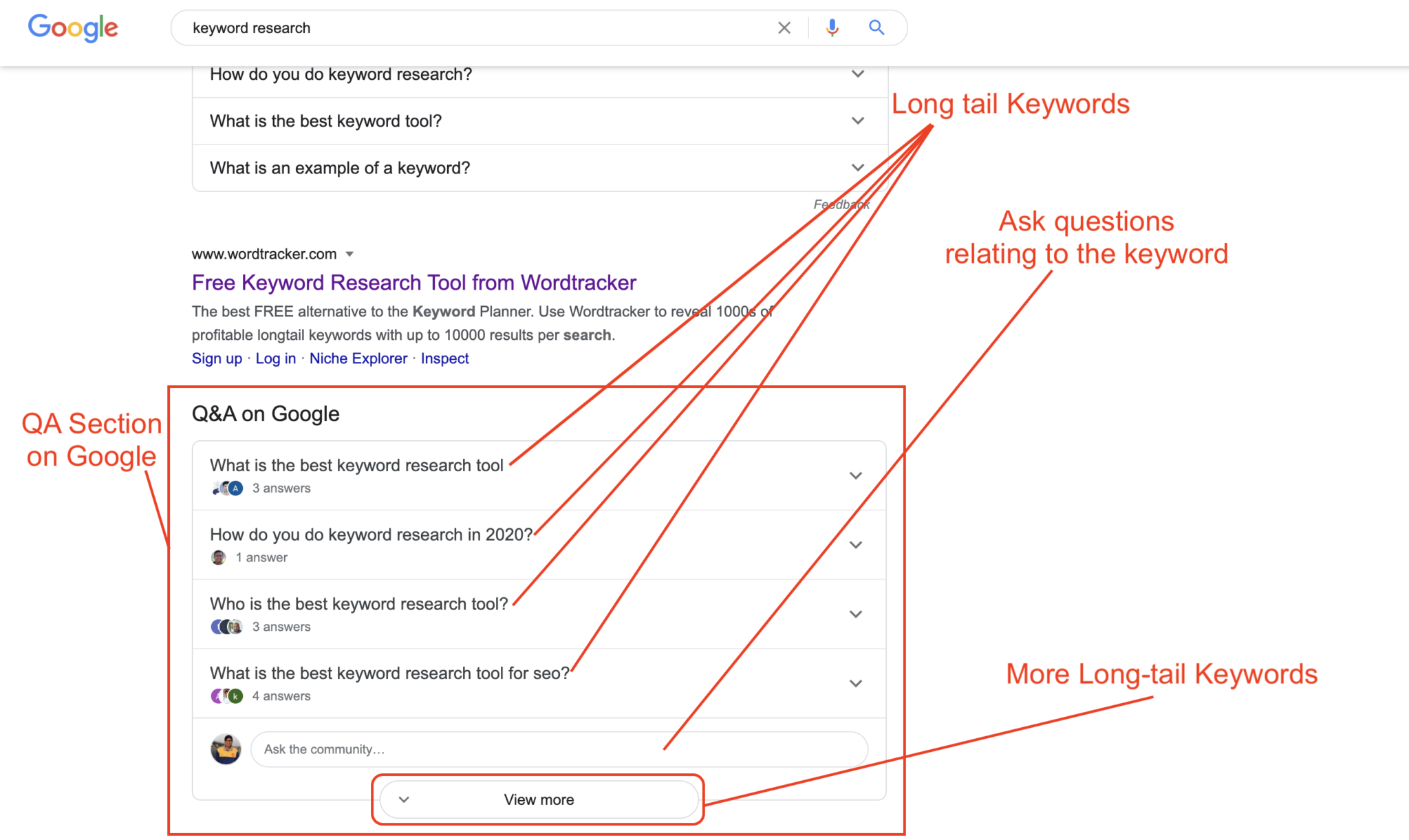 We know well that it is quite difficult to rank for highly competitive keywords. But these section provide the opportunity to showcase your ability, solutions, tools and valuable information.
"Please Also Search For"
This section is quite new to Google Search Results Page and also very important for keyword research. However, this section appears only for those keywords which are either short tail (e.g. "keyword research") or popular keywords (higher volume).
This section shows popular topics related to the keyword entered. Though these topics cannot be used as keywords. However, we do get find the topics which people also search in addition to the one which we have entered.
Click on any of the topic and you will find new topic ideas, keywords (in the PAA section). Do spare some time reading those articles which are ranking on our keyword and see what they have covered, how they have covered, what is missing and what requires better explanation.